Vegas Pro một phần mềm làm phim, video cực mạnh của Sony, tuy nhiên thì sau khi dùng và đánh giá thì nhận thấy rằng nó vẫn thua After Effect của Adobe. Nhưng với những bạn không chuyên hoặc mới thì hoàn toàn có thể dùng nó

Nếu các bạn muốn làm video trông chuyên nghiệp như trên truyền hình hoặc tương tự giống thì nó cũng là một phần mềm phù hợp để các bạn lựa chọn.
* Giới thiệu về Vegas Pro 15:
Tải nhanh video từ máy tính lên máy chủ điện toán đám mây, hoặc máy chủ khác để có thể tải về trên máy khác có phần mềm chỉnh sửa.
Cải thiện tốc độ lưu trữ file.
Bổ xung Streamlined giúp kiểm soát hoàn toàn thời gian video của bạn
---
* TẢI NGAY PHẦN MỀM: (password giải nén: caonguyenit.com)
Link chính

 | 

Link dự phòng
* TÀI KHOẢN FSHARE VIP FREE:
- Chia sẻ Fshare Vip miễn phí

---
1. HƯỚNG DẪN CÀI ĐẶT:
Bước 1: Các bạn giải nén ra vào thư mục Setup và click chuột vào "setup.exe" sau đó chọn Next

Bước 2: Click vào "I have read the End User…." và click tiếp Next

Tiếp theo chọn Install để tiến hành cài đặt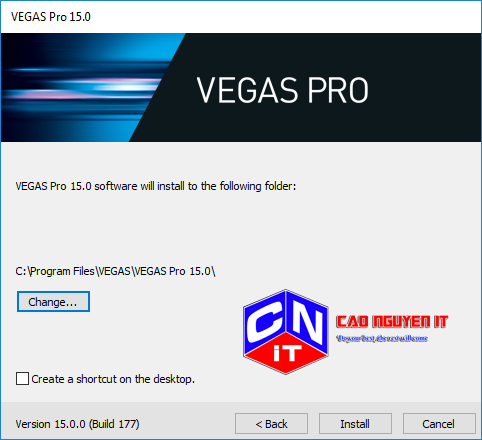 Phần mềm đang được cài đặt

Phần mềm được cài đặt xong các bạn click "Finish" để đóng quá trình cài đặt
2. HƯỚNG DẪN C R A C K PHẦN MỀM:
Bước 1: Truy cập vào thư mục Crack copy file "Sony Vegas Pro 15 Patch.exe" vào thư mục

Copy file vào thư mục theo đường dẫn "C:\Program Files\VEGAS\VEGAS Pro 15.0"

Bước 2: Chạy file Patch vừa copy vào đường dẫn với quyền "Run as Administrator" để chạy chương trình và click Next

Như vậy là đã xong quá trình cài đặt và Patch giờ các bạn hãy hưởng thụ và tìm tòi nghịch thôi nào.